Latest from
Latter-day conservative
:
Harold B. Lee
Quotes on Freedom, America, Constitution, Liberty, Etc…
"Youth must never forget that this the government of the United States was established "According to the laws and constitution of the people, which (God) has suffered to be established. . . . That every man may act in doctrine and principle . . . according to the moral agency which (God) has given unto him, that every man may be accountable for his own sins in the day of judgment. Therefore, it is not right that any man should be in bondage one to another." It was to accomplish this lofty purpose basic to all liberty that God "established the Constitution of this land by the hands of wise men whom (he) raised up unto this very purpose." (
D&C 101:77–80
.) Contained within the principles of that great heaven-inspired document is the message of this Church to the world in this fateful hour. Except the spirit of the Gospel of Jesus Christ and principles contained within the Constitution of the United States are inherent in world plans now being formulated, they are but building on sand and the Lord is not in that building."
"
I have faith in the future of this promised land of America and in its institutions of representative government, but more than that, I have faith in you, the youth of America, to build even more securely on the foundations laid by the faith and devotion of your pioneer fathers. That you as the youth of the Church would have an important part to play in preserving the ideals of this great country as quoted by one who was very close to him. I quote the words of Eliza R. Snow: "I heard the Prophet Joseph Smith say 'that the time would come when this nation would so far depart from its original purity, its glory, and its love of freedom and the protection of civil and religious rights, that the Constitution of our country would hang, as it were, by a thread.' He also said that this people, the sons of Zion, would rise up and save the Constitution and bear it off triumphantly." (Eliza R. Snow, 1870, Women of Mormondom by Tullidge.)
"So today is no time for youth to whimper the refrain of the defeated and retire to the fancied security of the regimented state. Today is the day for youth to gird themselves with the armor of peace, having as their weapons "the shield of faith . . . and the sword of the Spirit, which is the word of God." (
Eph 6:16–17
.)
"We urge members of the Church and all Americans to begin now to reflect more intently on the meaning and importance of the Constitution, and of adherence to its principles."
"Men may fail in this country, earthquakes may come, seas may heave beyond their bounds, there may be great drought, disaster, and hardship, but this nation, founded on principles laid down by men whom God raised up, will never fail. This is the cradle of humanity, where life on this earth began in the Garden of Eden. This is the place of the new Jerusalem. This is the place that the Lord said is favored above all other nations in all the world. This is the place where the Savior will come to His temple. This is the favored land in all the world. Yes, I repeat, men may fail, but this nation won't fail. I have faith in America; you and I must have faith in America, if we understand the teachings of the gospel of Jesus Christ. We are living in a day when we must pay heed to these challenges.
"I plead with you not to preach pessimism. Preach that this is the greatest country in all the world. This is the favored land. This is the land of our forefathers. It is the nation that will stand despite whatever trials or crises it may yet have to pass through."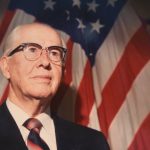 Ezra Taft Benson


Quotes on Freedom, America, Constitution, Liberty, Etc…



"On what basis can we morally resist tyranny?
I say to you with all the fervor of my soul that God intended men to be free. Rebellion against tyranny is a righteous cause. It is an enormous evil for any man to be enslaved to any system contrary to his own will. For that reason men, 200 years ago, pledged their lives, fortunes, and sacred honor.
No nation which has kept the commandments of God has ever perished, but I say to you that once freedom is lost, only blood – human blood – will win it back."
"The Founding Fathers understood the principle that "righteousness exalteth a nation" (Prov 14:34), and helped to bring about one of the greatest systems ever used to govern men. But unless we continue to seek righteousness and preserve the liberties entrusted to us, we shall lose the blessings of heaven. Thomas Jefferson said, "The price of freedom is eternal vigilance." The price of freedom is also to live in accordance with the commandments of God. The early Founding Fathers thanked the Lord for His intervention in their behalf. They saw His hand in their victories in battle and believed strongly that He watched over them.
"The battles are not over yet, and there will yet be times when this great nation will need the overshadowing help of Deity. Will we as a nation be worthy to call upon Him for help?"
(Ezra Taft Benson, Teachings of Ezra Taft Benson, pg. 601; from an address given at the Provo Freedom Festival, Provo, UT, 29 Jun 1986)
"
If we do not accept the existence of a Supreme Being; that God is the source of moral law, what more do we have to offer than Marx?…
Freedom is an eternal, God-given principle. There is no genuine happiness without freedom, nor is there any security or peace without freedom. After traveling in practically all of the free countries of the world and several times behind the Iron Curtain, I say that Marxism is the greatest evil in this world and the greatest threat to all we hold dear.
Of all sad things in the world, the saddest is to see a people who have once known liberty and freedom and then lost it. I have seen the unquenchable yearning of the human heart for liberty on two unforgettable occasions. These experiences are indelibly etched on the memory of my soul."
(Listen up, critical-thinking impaired OWS!)
"And if the time should come when you are associated with groups that take delight in tearing down our American way of life, then they seem to enjoy pointing out the weaknesses of our free enterprise system – and it has weaknesses; it has weaknesses because it's operated by men and women who are full of weaknesses – but when those times come, when our system is criticized, just keep in mind the fruits of the system, the great blessings that have come to us because of our American way of life. No group of people have ever attained the standard of living which is ours. And so let's become acquainted with what has been accomplished. It's all right to criticize; it's all right to try and improve our American way of life; but in doing so, 1et's not surrender, let's not give up, let's not jeopardize that system which has made America great."
"
I don't know how you feel, my brethren and sisters, but I'd rather be dead than to lose my liberty. I have no fear we'll ever lose it because of invasion from the outside. But I do have fear that it may slip away from us because of our own indifference, our own negligence, as citizens of this land. And so I plead with you this morning that you take an active interest in matters pertaining to the future of this country."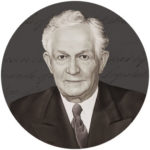 David O. McKay



Quotes on Freedom, America, Constitution, Liberty, Etc…
|
""
We should love the stars and stripes, and accept the constitution of these United States as divine. Don't hesitate to stand on the right side."
( Source:
Stepping Stones to an Abundant Life 414
)
"
Be true to the Constitution of the United States, to the Bill of Rights. Do not let any theories of immigrants or misguided politicians induce you to do anything that will deprive us of our liberties as vouchsafed by that immortal document."
"In the United States of America, the Constitution vouchsafes individual freedom, and let us pray also that the Lord will frustrate the plans of the Communists who would deprive us of freedom." (and the Politically Castrated Islammunists!!!)
"Next to being one in worshiping God, there is nothing in this world upon which this Church should be more united than in upholding and defending the Constitution of the United States!
"May the appeal of our Lord in His intercessory prayer for unity be realized in our homes, our wards, and stakes, and in our support of the basic principles of our Republic."